Factor Tree of 18 is the list of prime factors when multiplied it results in the original number ie., 18.
Factor Tree is the easiest way to find the factors of a given number. So, draw the factor tree of 18 and express all its prime multiplies.
18 = 2 x 9
9 = 3 x 3
If we write into multiples it would be 18 x 2
On splitting 9 further and writing it as multiples of numbers it would be 3 x 3.
Altogether expressing the 99 in terms of prime factors would be 2 x 3 x 3. And the factor tree of 18 would be like shown below: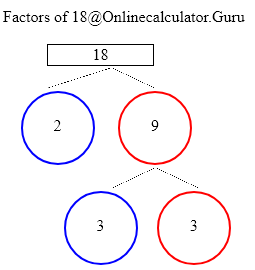 Learn more about Factors of 18 from here & easily calculate the factors using Factoring Calculator.