You can even do a product for two decimals by using the long multiplication method. So, refer to the below simple rules and follow the process while doing Long multiplication with decimals using the standard algorithm:
Firstly, you should count the total number of decimal places included in both the multiplicand and the multiplier.
Overlook the decimals and line up the numbers one on top of the other as integers.
Do the normal integers multiplication process for these integers using long multiplication & write down the result.
Now, give the decimal point in the final result with the same number of decimal places that you counted in step 1.
Example:
How to calculate long multiplication for 8.9 and 99.8 decimal numbers by hand?
Solution:
Given numbers are 8.9 and 99.8, now calculate the product for these two decimals using a long multiplication method.
There are 2 total decimal places in both given numbers.
Let's ignore the decimal places and complete the multiplication like assuming them as two integers.
Below is the multiplication of two numbers with the long multiplication method, have a look and get the result in decimal number.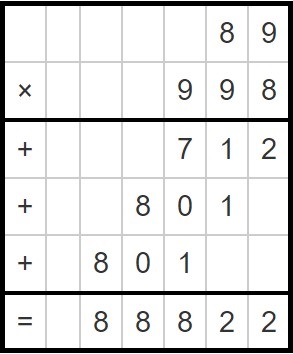 The final answer for the product of two integers i.e., 89 and 998 is 88822.
But we need to convert it into a decimal result. For that, we have to rewrite the product with 2 total decimal places.
Then the answer would be like this 888.22.
Therefore, Long multiplication for two decimals ie.,8.9 × 99.8 = 888.22.