The partial quotients method uses repeated subtraction logic to solve simple division questions. By following the three simple steps which are listed here can make your math division calculations very easy manually. So, Divide using the partial quotient method and get the result within no time.
Subtract from the dividend an easy multiple (like 100x, 300x, 40x, etc., which are in multiples of 10) of the divisor.
Repeat the subtraction until the large number has been reduced to zero or the remainder is less than the divisor.
Add up the partial quotients multipliers that were used in the repeated subtraction to find the answer of the division.
Example:
Use partial quotients to divide 596 by 5
Solution:
Given dividend and divisor values are 596, 5
Now, let's start solving division using the partial quotient division method in a stepwise manner.
Step-1: First, subtract the greater multiples of the divisor. Now, consider using partial quotients ie., repeated subtraction, so we have to subtract 5 one hundred times from the dividend. Then, see what is the use of the divide using partial quotients.
Step-2: Subtract lesser multiples of the divisor.
Step-3: Finally, Add the partial quotients and that's it you will get the result for the division of 596 by 5 using partial quotient/repeated subtraction method.
The calculation for the steps to divide 596 by 5 using the partial quotient is shown here: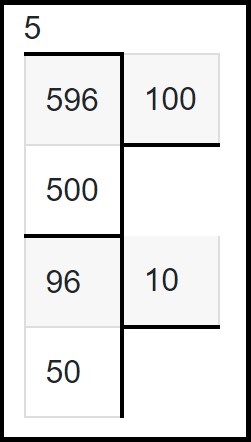 Now, subtract 45 minus 46 and the remainder will be 1.
On adding the all partial quotients, we get the single quotient of the number = 100+10+9 =119.
∴ The result of the division of 596/5 is 119 with a remainder of 1. ⇒ Division of 596/5 using Partial Quotient is 119 r 1.