Generally, Long Addition is a process for adding numbers together. So, follow the stepwise process of doing long addition method for adding whole numbers from here and make your summation calculations easy & quick.
At first, Stack your positive numbers and coordinate the columns by place value.
Now, Add all numbers column by column from right to left.
Next, Enter the sum in the answer place for each column.
Later, if the sum of any one column is greater than nine, carry the additional digits to the next highest column and repeat the same process until you add all the columns.
Finally, you will see the result in the answer space.
That's it! the process of adding whole numbers using a long addition method is completed. If you need a better understanding of the calculation, have a glance at the below-illustrated example and grasp the entire procedure to practice manually. Just in case you require the summation of given numbers result in a fraction of seconds then go with our long addition calculator provided here.
Example:
Add 937, 248 numbers using a long addition technique?
Solution:
First, stack and line up the numbers by place value columns
Add the values which are in one's place
ie., 7+8 = 15
Put the 5 in the one's place and Carry 1 to tens place in the carry row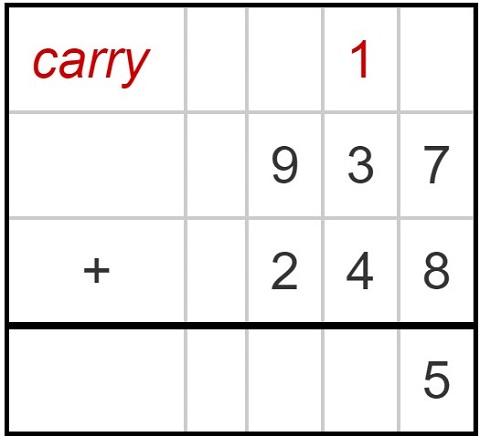 Now consider tens place values and add together
ie., 1+3+4 = 8
Put the 8 in the tens place in the sum row and here there is no carry number.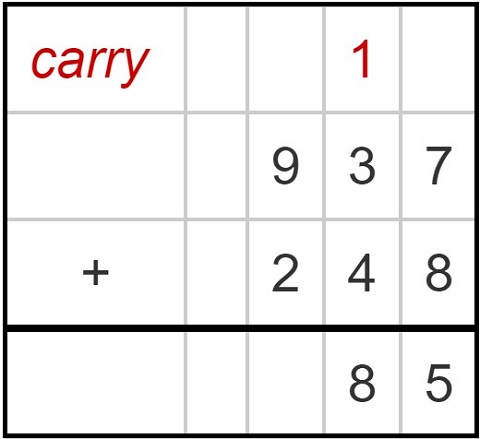 Now, add the numbers in the hundreds place
ie., 9+2 = 11
Put the 1 in the Hundreds place and Carry 1 in the thousands place & write in the carry row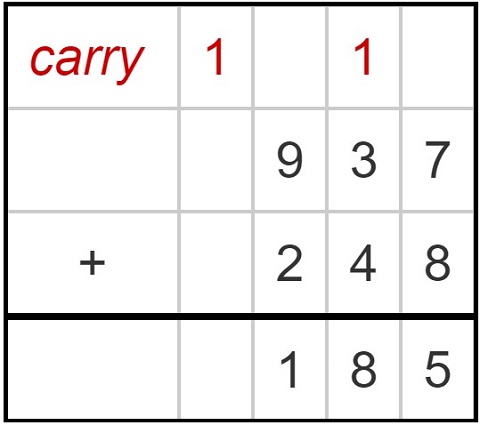 Now, come to the value in the thousands place
i.e., 1 = 1
So, put the 1 in the Thousands place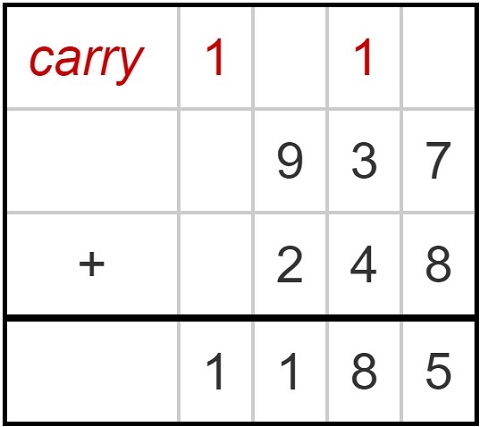 Therefore, on calculating both numbers 987 and 248 we get the sum value as 1185.