1. Is the addition of decimals is as same as the addition of whole numbers?
Yes, mostly these two summations are similar but decimal addition is slightly different from the addition of the whole numbers.
---
2. Can I calculate the addition of decimals easily without a calculator?
Yes, you can calculate decimals addition easily without a calculator by following the steps provided above on this page.
---
3. How to add decimal numbers 4.567 and 15.67?
The given decimals are 4.567 and 15.67,
On adding both decimals,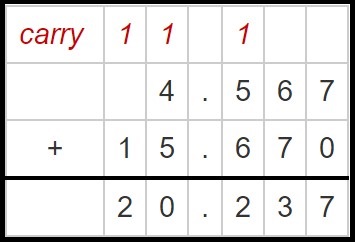 Therefore, the addition of decimals 4.567 and 15.67 is 20.237.
---
4. How to do the summation of decimals using an Adding Decimal Calculator?
By our website onlinecalculator.guru designed Adding Decimal Calculator, you can easily caluclate the sum of two or more decimals. Simply, place the input decimal values in the input field & click on the calculate button. Finally, the output along with an illustrated solution explanation will be displayed.