1. How do you subtract point values?
By aligning the decimal numbers one under another and place the zeros to have the same length then go with the process of subtraction and start subtracting the point values to attain the final subtracted decimal value effortlessly by hand.
---
2. How do you borrow when subtracting decimals?
Before subtracting the decimal values, put extra zeros to the right to have the same number of decimal digits. Now, Subtract digits in the same place-value position. When required, borrow a group of ten from the column to the left. Place the decimal point in the difference.
---
3. How Can I Find Decimals Subtraction on a Subtracting Decimals Calculator?
Just enter the given decimal values in the input field of the Subtracting Decimals Calculator and then click on the enter button to get the decimal subtracted value.
---
4. Calculate the decimal subtraction of 213.56 and 45.21?
The given two decimals are 213.56 and 45.21
On subtracting both decimals,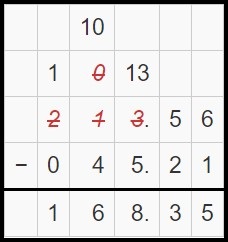 Therefore, the subtraction of decimals 213.56 and 45.21 is 168.35.